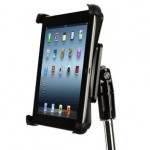 Late last Fall, I decided to give it a try… give a Sunday message with no paper notes, just the notes on my iPad.  I was a little nervous about it since I have been using paper notes for some 25 years and had developed a pretty good system for my speaking.
Almost immediately, I fell in love with it and can't see going back to paper. Here's what I'm using to make it happen:
Griffin Microphone Stand – I was using a regular music stand until December when some good friends of mine gave me this stand as a Christmas gift. It attaches to the top of a regular mic stand and is fully adjustable.  Love it!
PDF Expert – I write my message notes in my word processor in a fairly large font (I use Cambria 16pt) and then save it as a PDF and put in Dropbox.  I open the document in the Dropbox app on my iPad and then select "Open In…PDF Expert". What's great about this app is that I can highlight and hand-write notations right on the screen. It's great for putting little reminders right in my notes. I'm able to turn pages in my note with one tap or swipe of my finger.
Important – iPad Settings – The last thing I want is some notification sound or popup happening while I'm giving a message, so I make sure I setup the iPad this way on Sunday morning: (1) turn the sound completely off using the switch on the side; (2) turn on the "Do Not Disturb" feature; (3) turn off WiFi so I don't run the risk of getting a pop-up notification telling me that it's my turn in Words With Friends; and (4) set the Auto Lock setting to "never" so that my screen doesn't time out and turn off in the middle of a message.
My biggest concern when I switched was how big of an adjustment it would be for me to only see one page at a time versus two when I had paper on a music stand. I thought that would be a deal breaker, but oddly enough it has not been an issue.
What about you?  Have you experimented with speaking with an iPad?